A few pics I meant to put up earlier:
Maddox at T.A.'s Bday party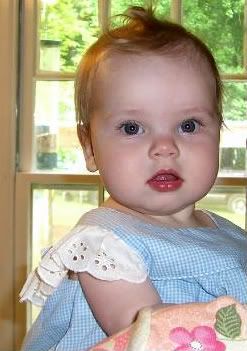 A few from the lake:
As much as I love traveling....I love coming home.  The thrill of packing and planning is always countered by the knowledge and security of what will be waiting when I return.   Maddox loves seeing her Papa, LOVES showing him her new tricks (How big is Mdx, give me 5, where is your belly, your head, your toes, and "MORE") and I love handing her to someone else to put her to sleep.  I don't want to make it seem like I'm trying to pass her off- absolutely the contrary.... but I want her to be able to comfortably fall asleep knowing that she is loved and safe- and I just can't do it all the time!
Our flight to Detroit was FANTASTIC!  The flight was not full so I was able to bring on Mdx's carseat so she could be seated and confined the whole trip.  Unless you have a baby- or ever have- you have no idea how valuable this is.  Mdx flew in-utero about 8 times, but I had no way of knowing how she would do.  At the ripe old age of 9 months old she was content with her toys and eating her "O's" the whole time.  I also discovered that she can wave "hello" exactly like the Queen of England.  It is hilarious.  Thank you to the wonderful old couple across the aisle who helped me discover this.  They were on their way to their grandson's high school graduation- and said that they wished they had gotten to know him at "this age".  
Once we arrived we were picked up by Uncle Richard and we hung out at the house.  They had already picked up some baby food so that saved me a shopping trip!  I met Dr. Conway for a late lunch at Noodles and she caught me up on everything going on in the Music Ed world.  Faculty drama, impending sabbaticals, new grad students and new babies- we had a lot to talk about!  She asked me about my future plans (plans?  who makes plans?) and said that if I wanted to come back to Michigan for a doctorate that they'd "love to have me"!!  WOW! What a nice thing to say.  I told her I'd keep that in mind, but with a husband in the AF it's hard to plan more than a few years ahead, and I plan on teaching for the next few years.  :)
Later we went to the barn and watched Ilana working with her horse Willie.  He's recuperating from eye surgery but is making great progress!  Maddox had never seen a horse up close before- that was interesting.  Once we got home we relaxed on the front porch and enjoyed the beautiful Michigan evening air.
The next day we went to the incredible Ann Arbor Farmer's Market.  There were SO many more merchants there at this time of year than during the school year.  There were plants, quilts, maple syrup, honey, fresh veggies, jewelry, and bread.  Then- of course- we walked across the street to Zingermans!  We picked up a few cheeses to take to the lake, and I got some goodies to bring home.  Barbara bought Mdx a beautiful reversible dress that she can wear next summer.  Later that day we checked out a new barn, since Ilana's current barn is closing- and headed to the lake.
At the lake we did an excellent job of doing nothing at all- once Barbara borrowed keys to the house from a neighbor (luckily they were home) since they forgot their own!  We had a little fire down by the water and fed the mosquitos.  On Sunday we headed back to AA and I met up for coffee with my friend Mandy who had also lived at Vail House.  She gave Mdx a great set of Dr. Seuss books.  Then another relaxing evening and it was time to pack!  Richard and Barbara sent me home with about 8 books to read (I asked for it!) so luckily there was room in my bag where the diapers had been.  
When I checked in for the flight back to Norfolk I found out that the flight was full, so Mdx would have to be on my lap.  At the gate I saw my friend Shannon, her husband Ian and their baby Eli!  It ends up that they were in Michigan visiting their families and going to a wedding- what a small world!  So we sat together on the flight and the poor babies both had little mini-meltdowns.  I felt so bad for all the people around us, but NOTHING would comfort them.  Mdx drank about 4 bottles on the flight because that was the only thing that kept her from screaming.  Then, right as the plane landed at Norfolk......she passed out.  SIGH
It has taken me this long to recover...and to type this novel.  Now I'm off to clean the house, since we'll have 4 separate visitors during the month of June!  Yay!
Here are some pics from our trip.  I'm waiting on a few from Ilana.  :)
Waiting for our flight in the airport