Just a funny picture of Mdx and the hose.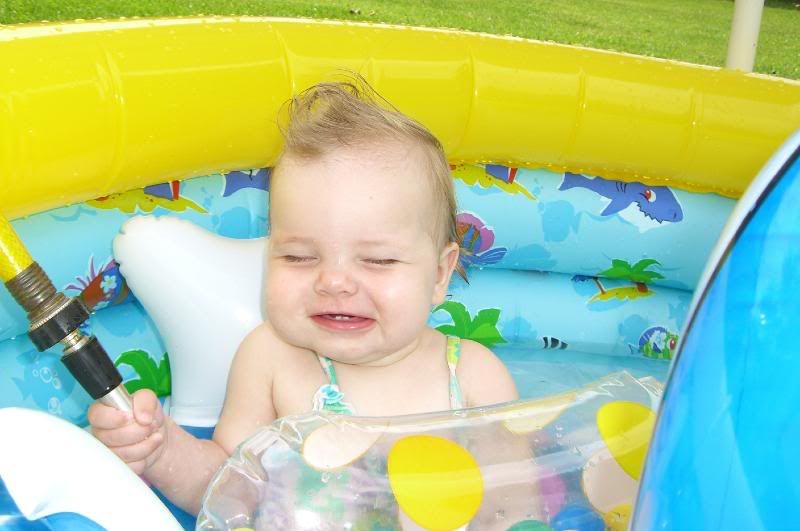 The biggest news is: Maddox took her first steps on Thursday night!  I was sitting on the floor and helped her stand up in front of me.  Right after she took about 3 steps towards me I looked over at Marshall and said "Did you see that?!".  He said "Yeah!" and right then she fell down.  I was hoping to capture a few steps on video and put it up here...but as soon as she sees the camera she gets too distracted to try!  Those of you that are coming up for her birthday will get to see it in person- she may even be walking FOR REAL by then.  :)  She had been wearing shoes for most of the day, which itself is kind of rare because she loves to pull them off.  She also was playing with her favorite new toy- a spoon.  Not a baby spoon, a real cereal spoon.  She carried it around the room all day while she was cruising, and she refused to let it go to take her first steps.   So sweet!  
This past Wednesday we hosted our first playdate.  We have been to tons of playdates, but never had them here.  I was concerned about people being able to get into the neighborhood if they weren't AF, so I just invited other military moms.  Most of them were Navy, but they were still cool.  Ha!  The living room and dining room were packed with moms and kids playing, and there were even a few kids playing out in the backyard.  Everyone said they had a great time, so maybe when I get brave enough we'll host another one.  
We also met a really cool Mom that lives about 3 streets over from us named Emilia.  She has an 18 month old son named Derek, and they came over to our house to play.  Emilia is German and met her husband when he was stationed at Ramstein.  She has offered to trade some babysitting with us, so I will definitely take her up on that.  She speaks German to Derek, and it was fun to try and remember some of my German to speak to him.  So far my memory of nouns and adjectives has been pretty good, it's just assigning gender, and using a definite article that gets me confused.  Der Hund? (the boy dog?)  Das Hund? (the ungendered dog?)  Die Hund? (the girl dog?)  Die Hunden? (the girl dogs?) AAaaaa!
Yesterday we went to a cookout at Marshall's friend Ben's house.  Ben also works in Intel with Marshall and this was the first time he had a cookout for all his co-workers.  As always they played cornhole, drank a lot of beer, and had some great food off the grill.  Maddox was having a good time sitting in her friend's little folding chair.  It had a handy-dandy little spot to hold a drink.  It also had a wonderful feature off the front end called gravity.  Gravity took hold of Mdx and she tumbled forward out of the chair and onto the grass TWICE, earning me the Mama-of-the-year award, and leaving Mdx with a green stain on the top of her head.  I refuse to take total credit for that.  I guess luckily for the baby we couldn't stay too long because we had an appointment later that day to meet with the lady who will be Mdx's babysitter when I return to work.
Mrs. Kris came highly recommended by some other moms in my playgroup network.  She had mentioned that she had an opening, so I jumped on the chance and called her to see if she was available during the times I needed her.  Luckily for us she is, so Marshall and I went over to her house and met her.  She lives about 5 minutes away from where I'll be teaching, and it's really not out of the way at all to pick up/drop off there.  We saw the children's play areas, changing area, eating area and her awesome backyard with all sorts of play equipment.  There are cubbies/baskets assigned to each child for their supplies, blankies, change of clothes, etc.  She normally has only a few children each day.  She has a very detailed handbook and contract and I appreciated how thorough all of her information is.  Mdx took to her immediately and was screeching with happiness as she was on the floor playing with her.  She reached out for Kris to hold her...and when it was time to go and I went to take her back- she PUSHED MY HAND AWAY! (the baby did, not Kris).  That is a good sign!  So, even though I'm still nervous leaving Mdx at all, I feel that she will be in a good place, under good care.
Speaking of under good care....I'm more than a little annoyed at the Langley Child Development Center.  When I first realized that going back to work was probably going to happen- back in February- I put Mdx on the waiting list.  They told me that it was 6 months to a year long.  They only have 1 infant class, but they have two 1 year old classes.  Since she'll be 1 at the end of August I was hoping that she would get a spot sometime this fall.  I had called about 2 months ago and they said she was #38 on the list (ACK!) but that it would probably move fast.  Then last week I went in to inquire about where she was....and they said she was #42!!  When I asked how in the world she could possibly go DOWN- they said that people had put their babies on the list before they were even born (and before me in Feb)....and now those babies were being born, so they went on the list before Mdx.  GRRRrrrr.  I asked the woman at the desk if I should even BOTHER staying on the list.....if we even have a CHANCE of ever getting a spot at #42?  Her response was "Oh yes, eventually you'll get a spot!".  And in the back of my mind I thought (When she's 5!!  Thanks for nothing!!).  So I'm not counting on the Langley CDC at all.  I guess one good thing is that at the CDC the teacher would have 9 other kids to worry about, and at Kris's she has less than 5 at any time.
Then on my drive home I remembered a conversation with the music director at St. Mark Lutheran in Yorktown.  He was telling me about the great Lutheran schools in the area (the Lutheran daycares are all full- I checked)....and how their preschools are so popular they have ridiculously long waiting lists.  So- even though we may not be here when Mdx goes to preschool, I think I'll put her on the waiting list for Gloria Dei, and Trinity anyway just in case.  Gosh, the stresses of being a parent.  :)
I'll leave you with some pics from our last trip to the lake.  Mdx went out on the boat for the first time, since she can finally fit into a life jacket.  We rode over to the swimming area early one day.  She played for a while and then fell asleep on the ride home.  We also took a trip to town and enjoyed some ice cream (we try to make sure she gets the full lake experience).  Maybe next summer she'll be roasting marshmallows over the campfire, swinging in the hammock, and fishing with Gramps.