Of course when I started talking about how Spring was here, the weather was beautiful, blah blah blah....it got rainy and cold for the past few days.  Yuck!  
So since we couldn't go outside and play we reverted to our new favorite thing - doing crazy things to the baby's hair!!
This is just your basic flip-up in the front.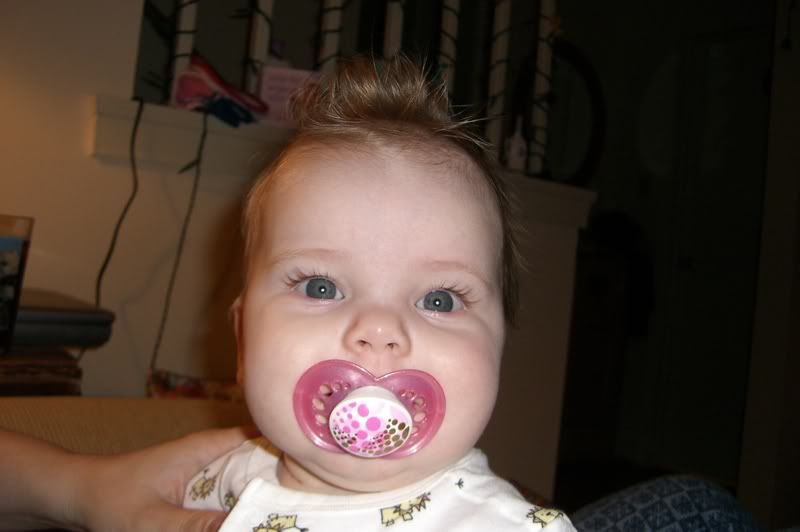 This one is the "I just woke up" look.
And now Mdx really likes to stick her tongue out and blow raspberries!  She has to concentrate very hard to remember how to do it.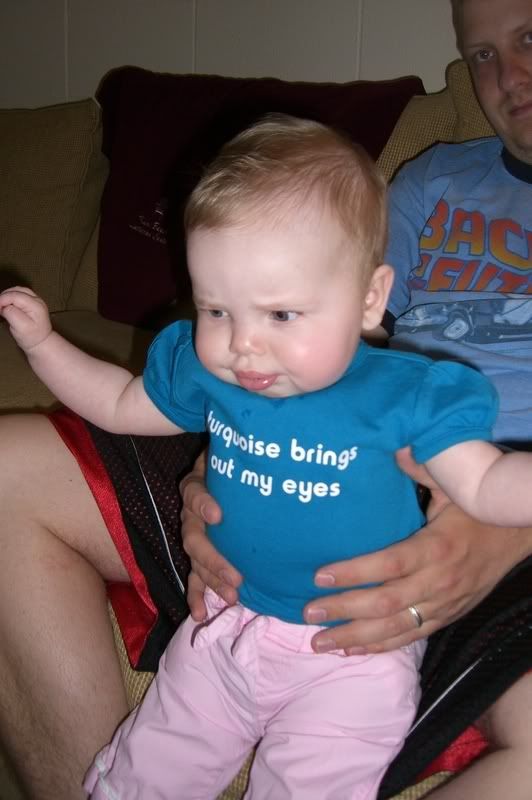 Marshall has started working nights- which is harder on us as a family than I thought it would be.  Luckily it is only for 2 weeks!  I feel like he's back in Korea again, because I have the baby by myself basically all day and all night again-AND still have to take care of clothes to wear and food to eat.  I can't wait until tomorrow when he can put her to bed again!
A few days ago I planted some herbs in containers, and a few flowers in the little bed next to our driveway.  Since then the sun hasn't come out once- so I hope they don't die.
I planted Oregano, Basil, Rosemary and Cilantro.
Here they are in the containers, which will go on the patio when the sun comes out!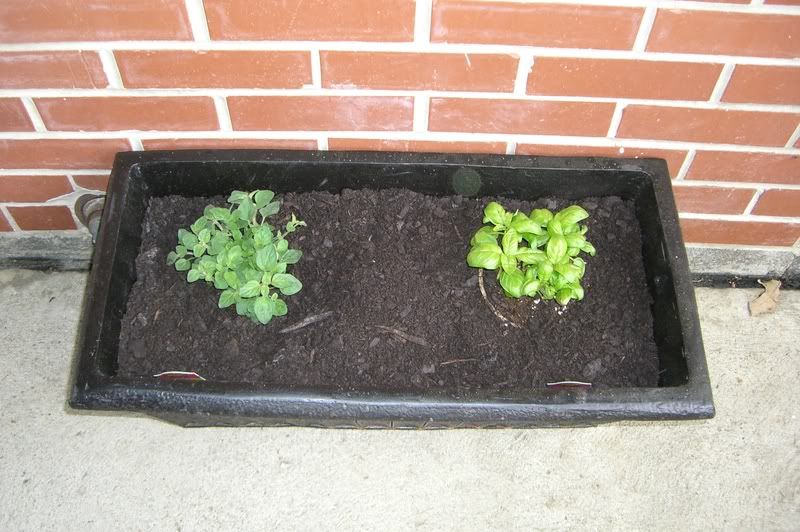 Here are the flowers- Marigolds, some blue flowers, and Snapdragons.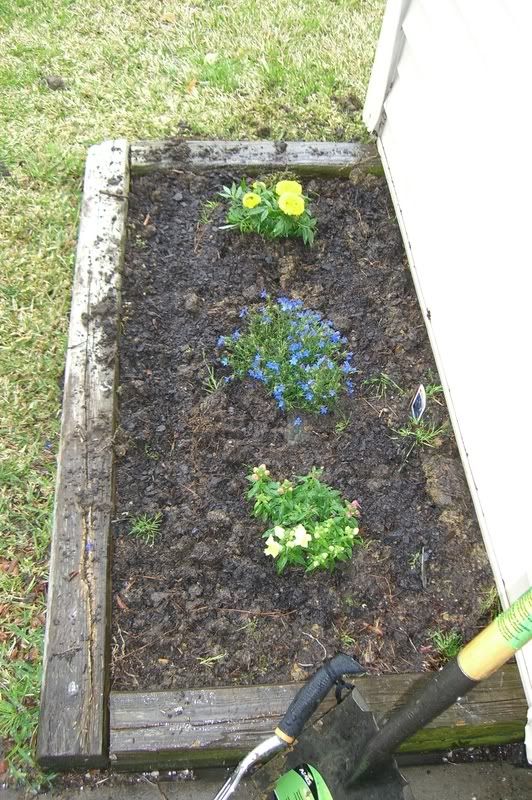 And- a few friends of mine are having baby boys in the next couple of months.  So, since Mdx loves her tag blanket so much, I decided to make some for them as baby gifts.  I got different types of fabric and lots of different ribbons.  In the process of looking for an online tutorial on how to make one I discovered lots of information about the actual "Taggies" company and the multiple lawsuits that they have brought against people who make these blankets and then sell them online.  They also have lawyers who send threatening emails to people telling them to stop selling the blankets or ELSE!!  A national craft store used to give away instructions on how to make the blankets- and they got sued too!!  Apparently they PATENTED the idea of sewing together two pieces of fabric with little loops of ribbon sticking out as an "educational invention".  Yep- US Patent # RE38782.   I think it's a bunch of baloney personally, and I think they should leave the crafty people alone.  How anyone got a patent on that I have no idea....but it makes me want to boycott the Taggie company for their greediness.  Gosh, I think I should patent my spectacular idea of putting cheese in between two pieces of bread and then cooking it in a pan on the stove with tons of butter.  BRILLIANT!!!!
And taggies people, before you try to sue me- you really should have better things to do with your time and money-everything I said is either true or is my personal opinion.  So put that in your blanket and SEW IT!
Okay, on to my wonderful project for tonight- which I am giving and not selling.  I decided to make a little mini blanket first for practice to make sure I knew what I was doing.  It is about 9 inches wide and 11 inches tall-the perfect size to keep in the diaper bag for a fussy moment.  I am so pleased at how it turned out!
The front.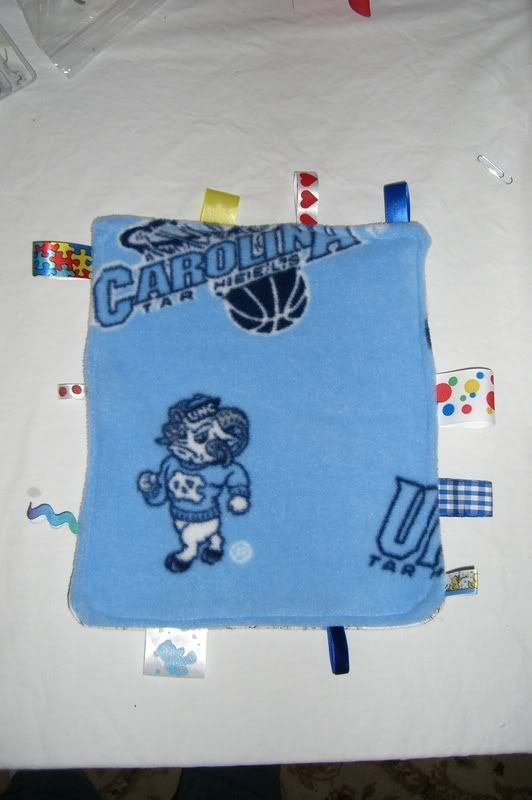 The back.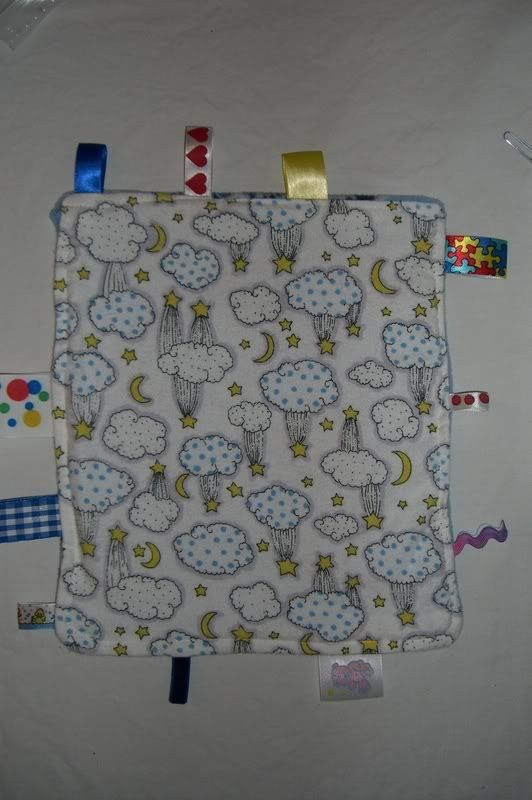 I think when I make the larger ones they'll be about 18 inches wide by 22 inches tall, and I'll use more ribbons.  Besides that it was surprisingly easy!