In case you were wondering, I actually HAVE been chasing the baby for the past few weeks.  Every time I thought about sitting down and uploading pictures/writing a blog....there were other things to do!  All the same, we've had an interesting few weeks.
My friend Kelly from college came in town about 2 weeks ago.  We met up in Historic Yorktown and ate lunch and caught up.  She has a 6 month old daughter named Isabela, who is adorable!  Her friend Melissa lives close by and also has a baby Evelyn who is about 4 months old-and they came too...so it was a fun Mama/Baby day.  (Their husbands were there- but not in the photo- Marshall had to work- OF COURSE).  Kelly is teaching orchestra down in Fayetteville, where she grew up.  I told her I'm really excited about going back to teaching, but a little apprehensive about leaving Maddox with a sitter.  I'm sure it will be fine though.
Here is Melissa & Evie, Kelly & Isabela, Mary & Mdx
After Kelly's visit I was supposed to be going to Philadelphia with my Aunt Betsy, and my sister and her kids, to visit my cousin Jeff.  However, my grandmother ended up falling and hurting herself so instead of going to Philly we went down to Greensboro to see her and spend time with family.  Maddox loves playing with all the toys that Grammy keeps at her house.  She has amassed quite a collection over the years since Mdx is her third grandchild!  Mom keeps most of the toys in a big wardrobe in the side room, along with stickers, puzzles, art supplies, etc.
Here is a pic of Mdx riding on a little trike.  She could only go backwards though- it was really funny.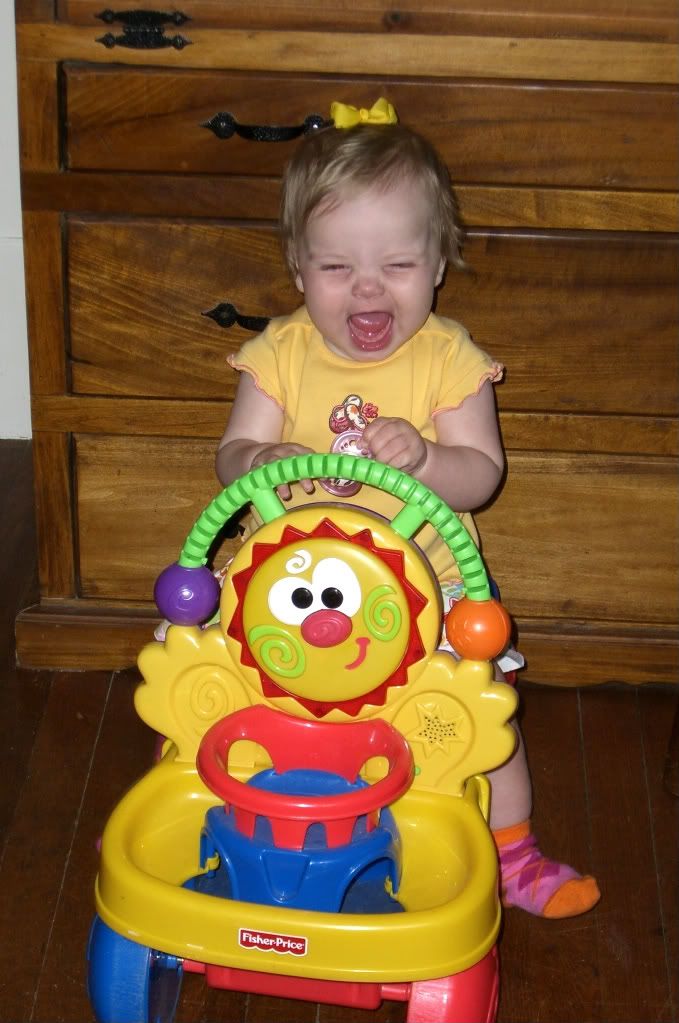 I also got it on video:
Maddox is getting so much more tired now that she is more mobile.  She passes out at night, almost an hour before she used to- which is great!  Also, now when she wakes up in the morning she sits and plays in her crib for a while before waking us up.  That is also great!
She likes pushing buttons on the TV.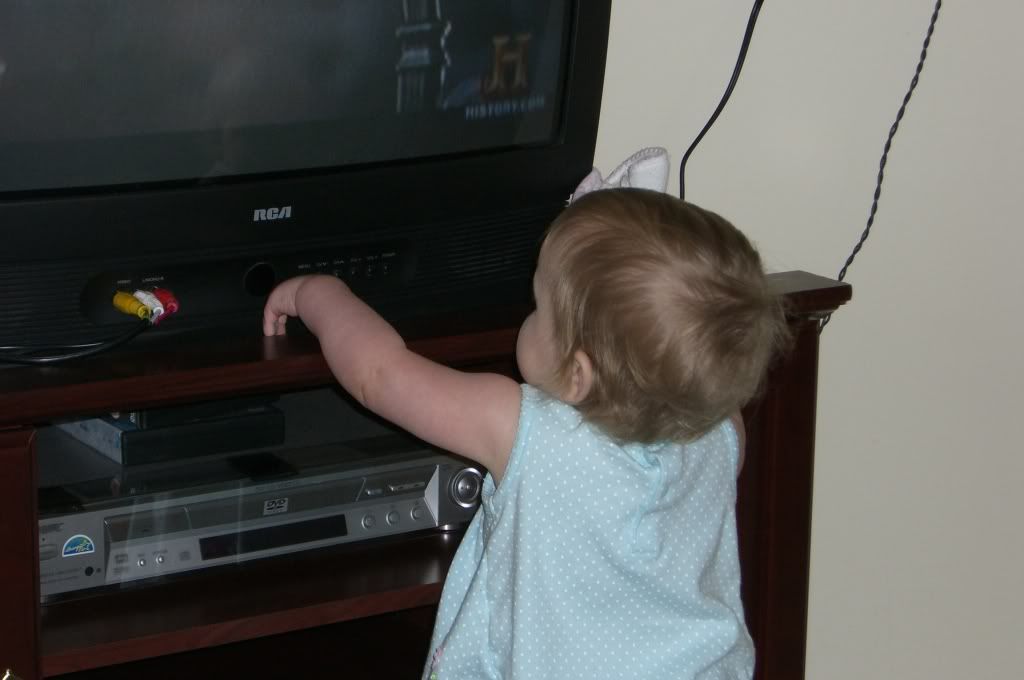 And recently got her first ponytail!!  She did NOT like me tugging on her hair to put it in, so she might not have ponytails very often.
And to make you smile- a video that shows how hilarious Mdx thinks Marshall is.